n/a
Anthony McCoy/Joe McKnight RC 2010 Topps Prime 2nd quarter combo relic Jerseys
ANTHONY MCCOY AND JOE MCKNIGHT ROOKIES (SEATTLE SEAHAWKS/NY JETS-TE/RB) TOPPS PRIME 2ND QUARTER COMBO RELIC NUMBERED 182/275 ROOKIE CARD FROM 2010 TOPPS PRIME!!!
ANTHONY MCCOY/JOE MCKNIGHT ROOKIE 2009 TOPPS PRIME AUTHENTIC 2ND QUARTER COMBO RELIC #182/275

The item you are buying an authentic JERSEY/PATCH of  ANTHONY MCCOY AND JOE MCKNIGHT NUMBERED 182/275 CARD FROM 2012 TOPPS PRIME FOOTBALL. This NUMBERED ROOKIE DUAL PATCH is Authenticated by TOPPS PRIME, the card is sequentially numbered 182/275, please see scan for details!

BEING OFFERED AND SOLD BY AMERICA'S FIRST CHOICE MERCHANDISERS,LLC./NANNY'S CLOSET-CHECK OUT NANNYSCLOSETBESTDEALS ONLINE!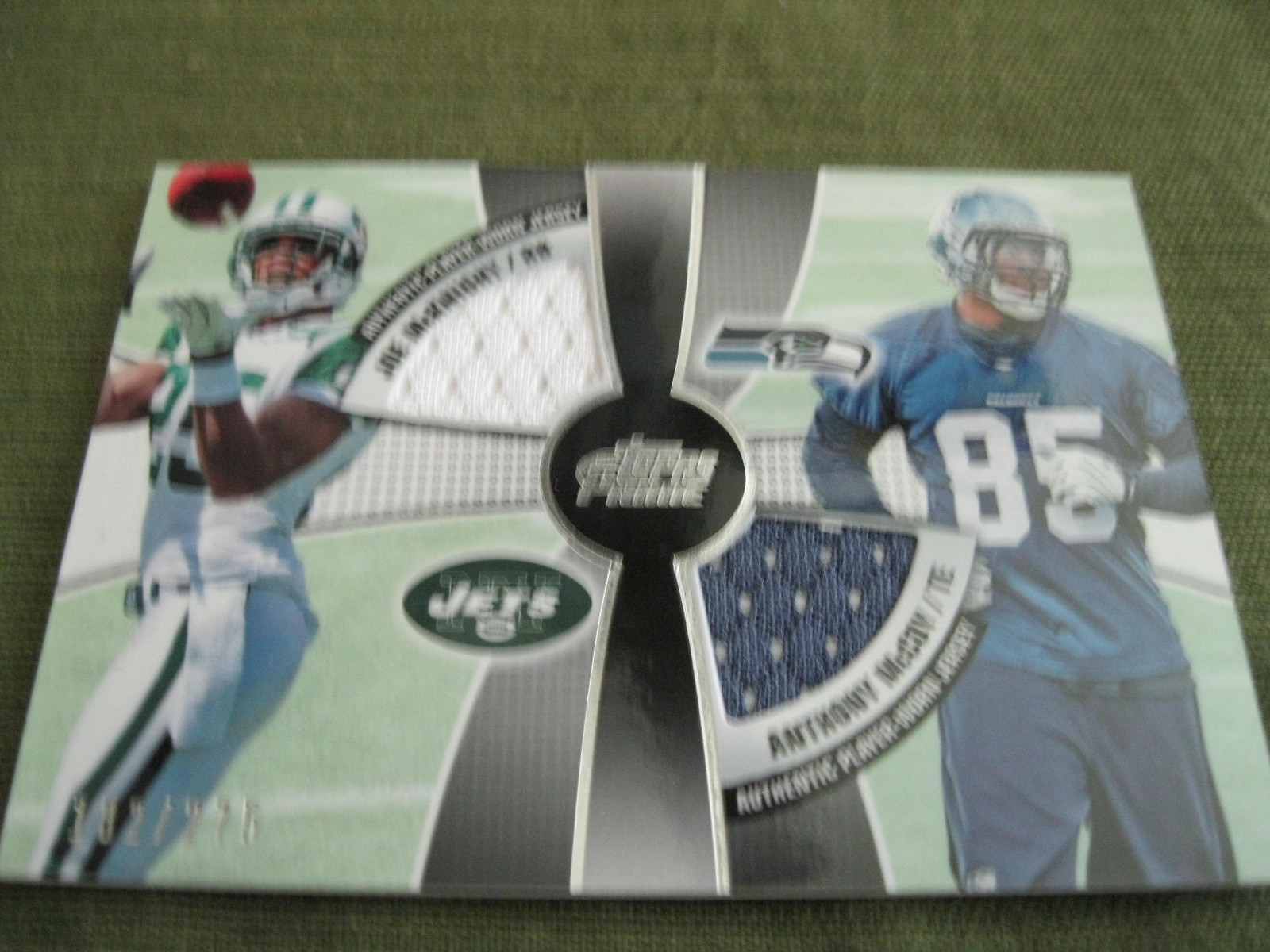 A Rare Find For the ANTHONY MCCOY ROOKIE/SEATTLE SEAHAWKS Collector OR JOE MCKNIGHT/NEW YORK JETS.
                                                           (Very Rare)                  
THIS RARE LOW NUMBERED 2ND QUARTER COMBO RELIC ROOKIE #182/275 CARD OF ANTHONY MCCOY/JOE MCKNIGHT ROOKIE IS TRUELY RARE TO FIND!!! A MUST HAVE FOR ANY SEATTLE  SEAHAWKS  OR ANTHONY MCCOY OR JOE MCKNIGHT OR NY JETS FAN!   
CHECK OUT MY STORE FOR MORE ROOKIE GRADED CARDS, DEREK JETER ROOKIE GRADED CARDS, NOLAN RYAN VINTAGE CARDS, MICKEY MANTLE CARDS, AUTOGRAPHS, ROOKIES, LOTS OF HUNDREDS OF VINTAGE, ROOKIES, AUTOGRAPHS, GAME USED JERSEY AND BAT CARDS, LOW NUMBERED CARDS, REFRACTORS, MEMORABILIA, JEWELRY, APPAREL, SETS, ETC.........NEW LISTINGS DAILY.......LIQUIDATION OF ENTIRE COLLECTION.......EVERYTHING MUST GO!!!!!!!!!!! 
                                WITH A LOW BUY IT NOW PRICE $11.99!!!!!!OR MAKE ME AN OFFER!!

BUYER WILL PAY $3.99 FOR SHIPPING AND HANDLING ON THIS ITEM.  I WILL DEDUCT EACH ADDITIONAL LOT BY $1.00 IF PURCHASED WITH 3 BUSINESS DAYS APART.  THE FASTER YOU PAY THE FASTER I SHIP.  PAYMENT US EXPECTED WITHIN 5 DAYS FROM THE END OF THE AUCTION.  IF PAYMENT IS NOT RECEIVED WITHIN 5 DAYS, I WILL RELIST ITEM AND NOTIFY EBAY.
I AM A STRONG BELIEVER IN LEAVING POSITIVE FEED BACK FOR EACH TRANSACTION.  I WILL LEAVE FEEDBACK AS SOON AS YOU LEAVE YOURS.  IF THERE ARE ANY PROBLEMS PLEASE CONTACT ME FIRST SO WE CAN DEAL WITH THE SITUATION.  
        LOOK AT MY OTHER EXCITING AUCTIONS!!!!!
---
Share this Product
---
More from this collection