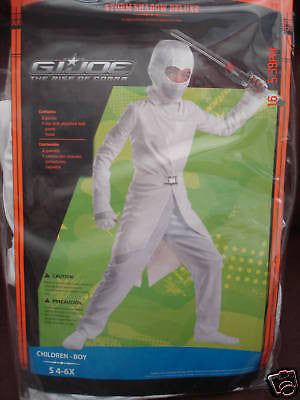 Ninja Storm
Boys GI Nija Storm Shadow Kids Halloween Costume S4-6x-Brand New in Factory Seal
THIS LOT WILL INCLUDE THE FOLLOWING:
Take on Cobra in this great G.I. Joe outfit-Boys GI Joe Nija Storm Shadow Costume!

This Item Includes: Top with attached belt, Pants, Fabric Hood, and Fingerless gloves.

Additional Comments: Shoes and Toy Sword sold separately
Size: Small 4-6X.

SMALL Size (4-6)-CHEST 23"-25", WAISTE 21"-22", HIPS 23"-25", INSEAM 16"-19", HEIGHT 39"-47" NAD WEIGHT 36-47 LBS.

Material: 100% Polyester
Color: White 
Packing: Medium Priority Pak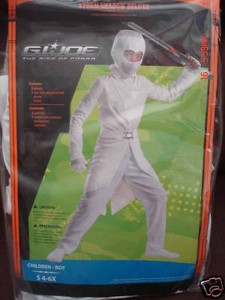 IN EXCELLENT CONDITION AND IN THE ORIGINAL PACKAGING.     (BOX-79)
AWESOME FOR CHILDREN OVER 4 YEARS OF AGE OR THE SERIOUS HALLOWEENER!!         
THESE ITEMS WILL MAKE A GREAT  GIFTS TOO.....
WITH A LOW BUY IT NOW PRICE OF $24.99!!!OR MAKE ME A REASONABLE OFFER TODAY!!!!!
BUYER AGREES TO PAY $9.99 FOR SHIPPING AND HANDLING....
YOU CAN BUY ADDITIONAL COSTUME AT ONLY $1.99 IN S&H FEES FOR EACH ADDITIONAL CAR PURCHASED WITHIN A THREE DAY TIME PERIOD.
CHECK OUT OUR OTHER AUCTIONS FOR TV WALL MOUNTS, MCFARLANES, STARTING LINE-UPS, NASCAR CARS, NASCAR FIGURES, TOYS, HARLEY DAVIDSON ITEMS, SPORTS APPAREL, JACKETS, GRADED CARDS, SPORTS COLLECTION BLOWOUTS, DEREK JETER ITEMS, AUTOGRAPHED PLAQUES/PHOTOS/SPORTSCARDS, NON-FICTION BOOKS, GAMING GUIDES FOR ALL SYSTEMS,  XBOX360/XBOX GAMES/ACCESSORIES, WII GAMING ACCESSORIES,PSP3/PSP2/PS ACCESSORIES, SEGA/GENSIS GAMES AND ACCESSORIES, ELECTRONICS, CD PAYERS, CAR SPEAKERS/BOOM BOXES, DVD PLAYERS AND DVD MOVIES, VHS TAPES/MOVIES FOR ADULT AND CHILDREN, COMPUTER PC GAMES FOR ADULTS AND CHILDREN, CELLULAR PHONE ACCESSORIES, AUTOGRAPHED HELMETS AND MEMORABILIA, LIMITED NUMBERED SPORTS BEARS, LIMITED NUMBERED SPORTS CARDS AND INSERTS, CHERISHED TEDDIES, SNOWBABIES, OAK FRAMED ART AND SPORTS ITEMS, SPORTS JERSEY AND APPAREL, TOTES BOOTS, MOTORCYCLE HELMETS AND ACCESSORIES, MOTORCYCLE BOOTS, HOUSEHOLD ITEMS, WALL DECOR, TY BEARS, YANKEE CLOCKS AND MEMORABILIA, AUTOGRAPHED SPORTS JERSEYS, RELIGIOUS ITEMS, WOMENS JACKETS AND APPAREL, CELLULAR PHONE CHARGERS AND ACCESSORIES, CHRISTMAS ORNAMENTS, COMPUTER SOFTWARE AND ACCESSORIES, MP3 PLAYERS, MP3 CHARGER STATIONS AND ACCESSORIES, DVD MOVIES FOR ADULT AND CHILDREN, ELVIS PRESLEY LIMITED NUMERED PLATES AND MEMORABILIA, LIMITED NUMBERED SPORTS PLATES AND MEMORABILIA. 

WE ARE ADDING NEW LISTINGS DAILY SO ADD US TO YOUR FAVORITE.

WE ARE REQUIRED TO MAINTAIN A 5-STAR RATINGS WITH EBAY.  SO IF YOU DO NOT FELL WE PROVIDED YOU WITH 5-STAR SERVICE EMAIL US.  WE ARE A FIRM BELIEVER IN THE IMPORTANCE OF FEEDBACK, THEREFORE, WE LEAVE FEEDBACK UPON RECEIPT OF YOUR FEEDBACK.  CUSTOMER SATISFACTION IS IMPORTANT, THEREFORE, WE WANT YOU TO CONTACT US IF YOU HAVE ANY CONCERNS........  
---
---
Share this Product