n/a
BRUNET/ZHOLTOK/ZUBRUS/DAHLEN 01/02 HEADS UP 4-COLOR QUAD JERSEY PATCH CARD
     LIQUIDATION OF PERSONAL COLLECTION--SELLING EVERYTHING--TRYING TO LIST EVERYDAY SO KEEP ME IN YOUR FAVORITES FOR THE GREAT DEALS
BENOIT BRUNET (CHICAGO BLACKHAWKS)/SERGEI ZHOLTOK (CHICAGO BLACKHAWKS)/DAINIUS NZUBRUS(WASHINGTON CAPITALS)/ULF DAHLEN (WASHINGTON CAPITALS) 2001/2002 HEADS UP 4-COLOR QUAD JERSEYS/PATCHES CARD#12 AND IS  EXTREMELY RARE!
 AUTHENTIC BRUNET/ZHOLTOK/ZUBRUS/DAHLEN 01/02 HEADS UP 4-COLOR QUAD JERSEY PATCH CARD AND A RARE INSERT CARD!!!
The item you are buying on is an authentic PREMIERE 2001/2002 PACIFIC HEADS UP 4-COLOR QUAD JERSEYS/PATCHES CARD  INSERT CARD of BRUNET/ZHOLTOK/ZUBRUS/DAHLEN. This RARE 4-COLOR QUAD JERSEY/PATCH Insert card is Authenticated by PACIFIC HEADS UP, please see scan for details!
BEING OFFERED AND SOLD BY AMERICA'S FIRST CHOICE MERCHANDISERS,LLC./NANNY'S CLOSET-CHECK OUT NANNYSCLOSETBESTDEALS ONLINE!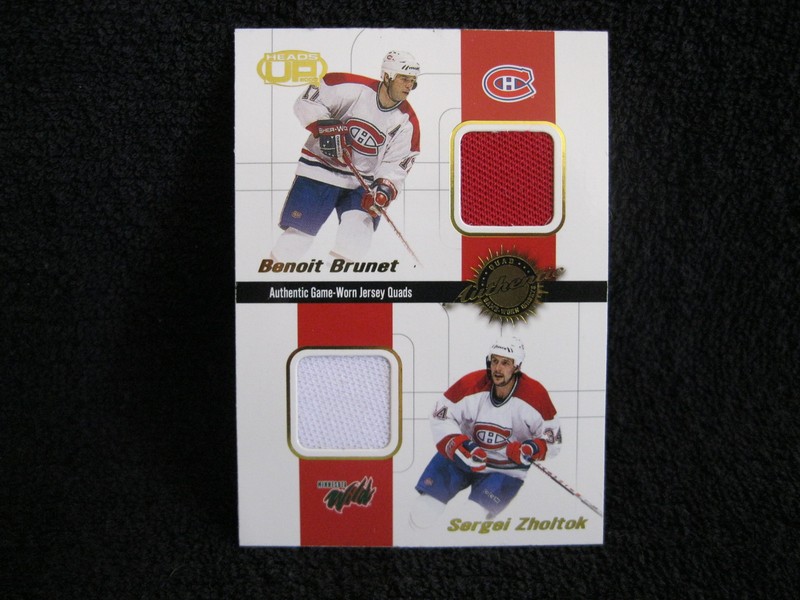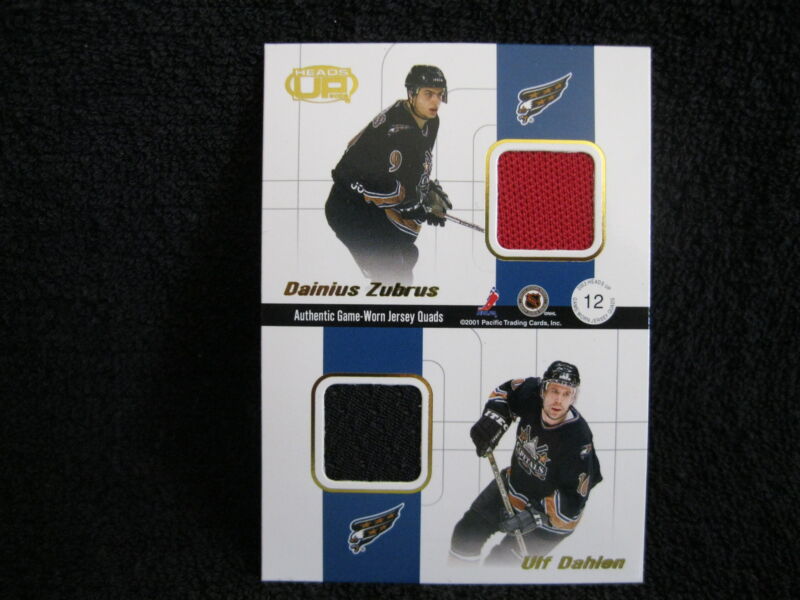 BUY IT NOW AT A LOW PRICE OF $29.95 OR MAKE ME A REASONABLE OFFER!!
BUYER WILL PAY $3.99 FOR SHIPPING AND HANDLING ON THIS ITEM DUE TO THE WEIGHT AND THE PACKAGING NECESSARY.  
HOWEVER, IF YOU PURCHASE SEVERAL AUCTIONS I WILL DISCOUNT SHIPPING AND HANDLING.  ONLY PAY AN ADDITIONAL $.99 IN S&H FEES FOR EACH ADDITIONAL PACKAGE PURCHASED.
              LOOK AT MY OTHER EXCITING AUCTIONS!!!!!
WE HAVE FLAT SCREEN WALL MOUNTS, COLLECTIONS, GRADED CARDS, BARBIES, ACTION AND WINNER CIRCLE NASCARS, TY BEARS, MLB AND NFL BEARS, SPORTS APPAREL, HOUSEHOLD ITEMS, JEWELRY, SPORTS ITEMS AND JERSEYS, AUTOGRAPHS, DVD MOVIES, PC GAMES FOR ADULTS AND CHILDREN, VHS TAPES, DISNEY ITEMS AND COLLECTIBLES, DISNEY MASTERPIECES, TOTES KIDS BOOTS, XBOX SYSTEMS AND ACCESSORIES, PSP ACCESSORIES, SEGA ACCESSORIES, GENESIS ACCESSORIES, BARBIES AND DOLLS, SPORTS PLAQUES, STAR WAR AUTOGRAPED PLAQUES, SNOWBABIES AND CHERRISHED TEDDIES, LIMITED NUMBERED COLLECTIBLE BEARS, AUTOGRAPHED BALLS, CARDS, PLAQUES, AND PHOTOS, MICKEY MANTLE NUMBERED BEARS AND VINTAGE CARDS, YU-GI-OH AND POKEMON CARD LOTS, LIMITED NUMBERED INSERT CARDS, GRADED ROOKIE CARDS, NON-FICTION BOOKS, GAMING GUIDES FOR ALL SYSTEMS, ELECTRONICS, CELLULAR PHONE ACCESSORIES, CHILDREN'S COMPUTERS AND TOYS, BATMAN ITEMS, HARLEY DAVIDSON PHONES, SPORTS MEMORIBILIA, SPORTS JERSEYS, TIGER WOOD ITEMS, AND MUCH MUCH MORE.
---
Share this Product
---
More from this collection