nannysclosetbestdeals
Winged Skulls Gray & Black Checker Winter Knitted Skull Beanie Ski Cap&Gloves
  Large White Skulls with Wings on Gray, Black and White Stripes Skull Winter Beanie Ski Hat Cap and Black Fingered Gloves-New with Tags!
100% Acrylic Cable Knitted fabric
It is perfect for any weather in any state!!!
Mead of high Quality materials
Soft warm Feel
Approximate Size: 7.5"x7.5" (laid flat)
Brand New One size fits most
NEW BLACK WITH KNITTED FINGERED GLOVES 
 Color: BLACK
 Material: Knit 
Measurements: Approximately 6". 
One size fits all. 
Extras Details : All fingered gloves are NEW, have tags, and are prepackaged. 
These fingered gloves are great for current trends and cold weathers. They are also pretty rare and you won't see them any where else.
 I have ALOT more styles, patterns, and quantity varieties in my store.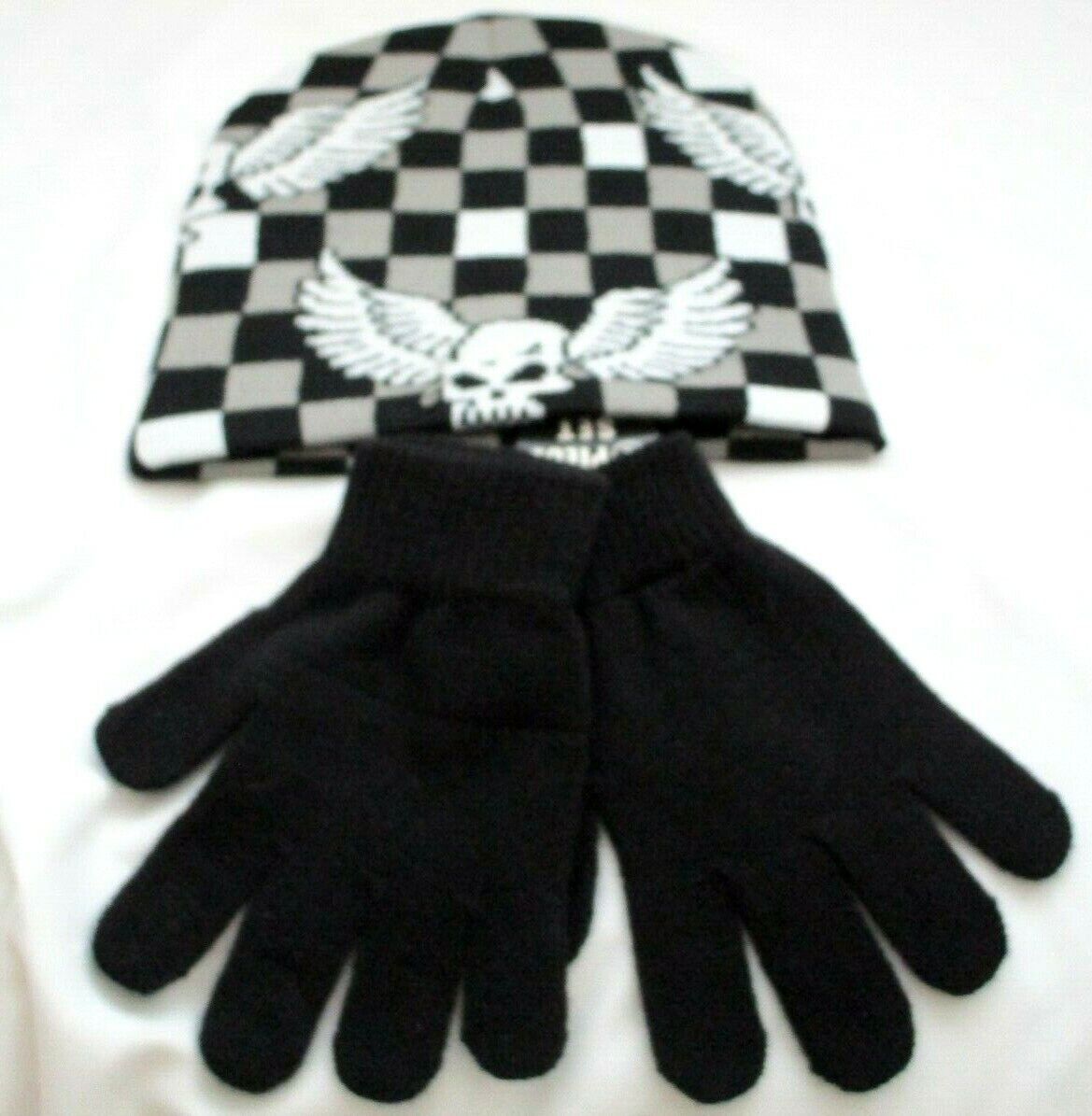 BEING OFFERED AND SOLD BY AMERICA'S FIRST CHOICE MERCHANDISERS,LLC.-CHECK OUT NANNYSCLOSETBESTDEALS ONLINE!
BRAND NEW with tag!
BUY IT NOW!!
                     WE ARE OFFERING THIS ITEMS AT A BUY IT NOW PRICE OF $39.99 OR MAKE US A REASONABLE OFFER!!!
BUYER AGREES TO PAY $8.99 FOR THE SHIPPING AND HANDLING.  WE OFFER ADDITIONAL BEANIE AND GLOVES AT ONLY AN ADDITIONAL $2.99 FOR S&H IF YOU PURCHASE WITHIN A 72 HOURS TIME PERIOD AND PAY ON ONE INVOICE AT TIME OF CHECKOUT.
We will let our photos tell why our product stands out from the rest here on EBay. All our Items are in stock and ready to ship with 24-48 hours! Please visit our  for more character items. We offer multiple discounts on combined shipping when completed within 72 hours at time of checkout. We encourage you to visit our About page to learn more about our company, our large inventory, our feedback, combined shipping discount information, and more!
 WE KNOW THE IMPORTANCE OF CUSTOMER SATISFACTION AND WE GUARANTEE IT.  NEVER A NEED TO FILE A CLAIM BECAUSE WE RESPOND TO ANY INQUIRY OR PROBLEM THAT ARISES WITH ANY PURCHASE.  WE RESPOND WITHIN 24 HOURS TO RESOLVE ANY ISSUES WHEN YOU SEND US AN EMAIL THROUGH THE EBAY SYSTEM.  THANKS AND HAPPY SHOPPING!!!
---
Share this Product
---
More from this collection