Starting Line-up
Mickey Mantle 1997 Cooperstown Collection Figure-New York Yankees Hall of Famer
THIS LOT WILL INCLUDE THE FOLLOWING:
Starting Lineup Cooperstown Collection Mickey #7 Yankees Stadium Figure.
 Mint condition in original box, never opened.
1997 Kenner Cooperstown Collection Starting Line-Ups.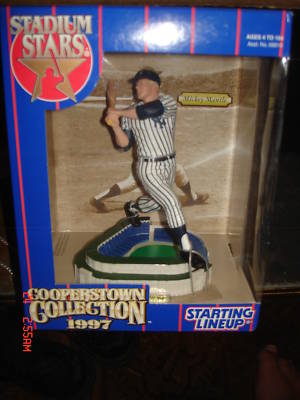 (BOX-141,143)

  A RARE FIND FOR ANY NEW YORK YANKEES FANS!
Mickey Charles Mantle (October 20, 1931 – August 13, 1995) was a legendary American baseball player who was inducted into the National Baseball Hall of Fame in 1974.
He played his storied 18-year major-league professional career all for the New York Yankees, winning 3 American League MVP titles and playing in 16 All-Star games. Mantle played on 12 pennant winners and 7 World Series Championship clubs. He still holds the records for most World Series home runs (18), RBIs (40), runs (42), walks (43), extra-base hits (26), and total bases (123). He is also the career leader in walk-off home runs, with a combined 13 in regular season and post-season play (12 regular, 1 postseason) [1]. He is regarded by many to be the greatest switch hitter of all time,[2] and one of the greatest players in baseball history.[3]
Mickey Mantle was born in Spavinaw, Oklahoma, the son of Elvin Charles Mantle and Lovell (née Richardson) Mantle. He was named in honor of Mickey Cochrane, the Hall of Fame catcher from the Philadelphia Athletics, by his father, known as "Mutt," who was an amateur player and fervent fan. According to the book Mickey Mantle: America's Prodigal Son, by Tony Castro, in later life, Mantle expressed relief that his father had not known Cochrane's true first name, as he would have hated to be named Gordon. Mantle always spoke warmly of his father, and said he was the bravest man he ever knew. "No boy ever loved his father more," he said. His father died of cancer in 1952 at the age of 39, just as his son was starting his career. Mantle said one of the great heartaches of his life was that he never told his father he loved him.
When Mantle was four years old, the family moved to the nearby town of Commerce, Oklahoma. Mantle was an all-around athlete at Commerce High School, playing basketball as well as football (he was offered a football scholarship by the University of Oklahoma) in addition to his first love, baseball. His football playing nearly ended his athletic career, and indeed his life. Kicked in the shin during a game, Mantle's leg soon became infected with osteomyelitis, a crippling disease that would have been incurable just a few years earlier. A midnight drive to Tulsa, Oklahoma, enabled Mantle to be treated with newly available penicillin, saving his leg from amputation. He suffered from the effects of the disease for the rest of his life, and it probably led to many other injuries that hampered his professional career. Additionally, Mantle's osteomyelitic condition exempted him from military service, which caused him to become very unpopular with fans early on, as his earliest days in baseball coincided with the Korean War (though he was still selected as an All-Star the year his medical exemption was given).
[edit]
Professional career
Mantle's first semi-professional team was the Baxter Springs, Kansas Whiz Kids. In 1948, Yankees' scout Tom Greenwade came to Baxter Springs to watch Mantle's teammate, third baseman Billy Johnson. During the game Mantle switch-hit two homers into the river well beyond the ballpark. Despite Greenwade's interest – he would later call Mantle the best prospect he'd ever seen – the 16-year-old Mantle was forced to wait until his high school graduation in 1949 before inking a minor league contract with their Class-D affiliate in Independence, Kansas. Mantle signed for $400 ($4,563 in current dollar terms) to play the remainder of the season with a $1,100 ($10,039 in current dollar terms) signing bonus. His blinding speed soon earned him the nickname "The Commerce Comet," carrying him to the Joplin Miners in Joplin, Missouri. (He would later invest in a Holiday Inn motel in that city, with his name attached to it.)
Wearing #6, Mantle was called up to the majors on April 7, 1951, to play right field; by June, manager Casey Stengel, speaking to SPORT, stated "He's got more natural power from both sides than anybody I ever saw." Joe DiMaggio, in his final season, called Mantle, "the greatest prospect I can remember."


                            THESE ITEMS WILL MAKE GREAT GIFTS TOO.....
WITH A LOW BUY IT NOW PRICE OF $24.99!!!OR MAKE ME AN OFFER!!!
BUYER AGREES TO PAY $11.99 FOR SHIPPING AND HANDLING....
ANY ADDITIONAL STADIUM STARS IS ONLY $4.99 FOR S&H PER ITEM OR YOU CAN BUY ADDITIONAL 1:64 NASCARS, OR VIDEO GAME AT ONLY $1.99 S&H FEES FOR EACH ADDITIONAL CAR PURCHASED WITHIN A THREE DAY TIME PERIOD.
CHECK OUT OUR OTHER AUCTIONS, WE ADD NEW ITEMS DAILY SO ADD US TO YOUR FAVORITES.................
WE ARE A FIRM BELIEVER IN THE IMPORTANCE OF FEEDBACK, THEREFORE, WE LEAVE FEEDBACK UPON RECEIPT OF YOUR FEEDBACK.  CUSTOMER SATISFACTION IS IMPORTANT, THEREFORE, WE WANT YOU TO CONTACT US IF YOU HAVE ANY CONCERNS........   
---
Share this Product
---
More from this collection