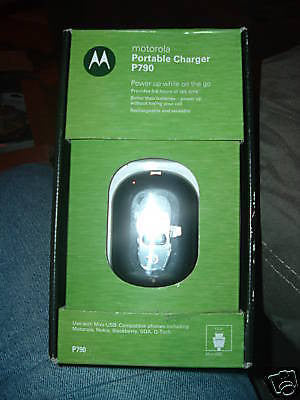 Motorola
MOTOROLA P790 BLACK PORTABLE CHARGER-NEW IN BOX!
     LIQUIDATION OF PERSONAL COLLECTION--SELLING EVERYTHING--TRYING TO LIST EVERYDAY SO KEEP ME IN YOUR FAVORITES FOR THE GREAT DEALS
GUARANTEED (1) MOTOROLA PORTABLE CHARGER P790.  NEW IN A FACTORY SEALED PACKAGE  MODEL# 89081J.   (HALL-CABINET)
THIS ITEM IS COMPATIBLE WITH PEBL,SLVR L7C,RAZR V3T,V365,KRZR K1,V361,RAZR V3R,V360,SLVR L7,MOTO Q,RAZR V3C,RAZR V3,RAZR V3I,RAZR V3M,KRZR K1M.
IF YOU ARE ALWAYS ON THE PHONE AND CONSTANTLY ON THE GO THE MOTOROLA P790 PORTABLE CHARGER IS A MUST-HAVE DEVICE.
IT LETS YOU ENJOY MORE TIME ON YOUR PHONE TO TALK, TEXT, AND USE MULTIMEDIA CAPABILITIES BEFORE YOU HAVE TO SLOW DOWN AND PHUG IT INTO A WALL OUTLET.  A FULLY CHARGED P790 PORTABLE CHARGER PROVIDES 1 TO 2 FULL CHARGES FOR A MOBILE PHONE (300 TO 400 MORE MINUTES OF PHONE TALK TIME), OR UP TO 10 FULL CHARGES FOR A BLUETOOTH HEADSET THAT USES MINI-USB RECHARGING CONNECTION. 

IT INCLUDES MOTOROLA P790 CHARGER, LITHIUM ION BATTERY, AND QUICK START GUIDE.
IT IS DESIGNED TO WORK WITH ALL MOTOROLA MINI-USB PHONES AND BLUETOOTH V1.2 AUDIO DEVICES,SUPPORTS MOST NON-MOTOROLA MINI-USB PHONES AND PDA'S.
IT IS RECHARGEABLE AND REUSABLE-MINI-USB CONNECTOR MAKES IT EASY TO RECHARGE THE 1700 MAH LITHIUM ION BATTERY.
PORTABLE AND POWERFUL BUT SMALL ENOUGH TO FIT NEATLY IN YOUR POCKET,HANDBAG,OR BRIEFCASE.  STASH IT IN YOUR CAR TO ENSURE YOU HAVE POWER WHEN YOU NEED IT MOST.
INTUITIVE, EASY TO USE CONTROLS WITH GLOWING RE-GREEN-YELLOW INDICATOR LIGHTS.
CHARGE TIME IS APPROXIMATELY 2 HOURS..  
DUE TO THE NATURE THAT THIS DEVICE IS AN ELECTRONIC COMPONENT, ALL SALES ARE FINAL UNLESS INSURANCE IS PAID FOR.  PLEASE REFER TO TERMS OF RETURNS WITH INSURANCE PAID. 
BUY IT NOW AT A LOW PRICE OF $24.95 OR MAKE ME A REASONABLE OFFER!!
BUYER WILL PAY $9.99 IN SHIPPING AND HANDLING ON THIS ITEM.  
HOWEVER, IF YOU PURCHASE SEVERAL AUCTIONS I WILL DISCOUNT SHIPPING AND HANDLING.  ONLY PAY AN ADDITIONAL $1.99 IN S&H FEES FOR EACH ADDITIONAL PACKAGE PURCHASED.
              LOOK AT MY OTHER EXCITING AUCTIONS!!!!!
WE HAVE FLAT SCREEN WALL MOUNTS, COLLECTIONS, GRADED CARDS, BARBIES, ACTION AND WINNER CIRCLE NASCARS, TY BEARS, MLB AND NFL BEARS, SPORTS APPAREL, HOUSEHOLD ITEMS, JEWELRY, SPORTS ITEMS AND JERSEYS, AUTOGRAPHS, DVD MOVIES, PC GAMES FOR ADULTS AND CHILDREN, VHS TAPES, DISNEY ITEMS AND COLLECTIBLES, DISNEY MASTERPIECES, TOTES KIDS BOOTS, XBOX SYSTEMS AND ACCESSORIES, PSP ACCESSORIES, SEGA ACCESSORIES, GENESIS ACCESSORIES, BARBIES AND DOLLS, SPORTS PLAQUES, STAR WAR AUTOGRAPED PLAQUES, SNOWBABIES AND CHERISHED TEDDIES, LIMITED NUMBERED COLLECTIBLE BEARS, AUTOGRAPHED BALLS, CARDS, PLAQUES, AND PHOTOS, MICKEY MANTLE NUMBERED BEARS AND VINTAGE CARDS, YU-GI-OH AND POKEMON CARD LOTS, LIMITED NUMBERED INSERT CARDS, GRADED ROOKIE CARDS, NON-FICTION BOOKS, GAMING GUIDES FOR ALL SYSTEMS, ELECTRONICS, CELLULAR PHONE ACCESSORIES, CHILDREN'S COMPUTERS AND TOYS, BATMAN ITEMS, HARLEY DAVIDSON PHONES, SPORTS MEMORABILIA, SPORTS JERSEYS, TIGER WOOD ITEMS, AND MUCH MUCH MORE.
---
Share this Product
---
More from this collection