Gretzky
Wayne Gretzky #14953/36000 Collectilble Bear "The Great One" Facsimile Autograph
Wayne Gretzky Famous The Great One NHL Edition Bear with numbered tag 
#14953 of 36000 limited production with Wayne Gretzky's reproduced authorized autograph on the back of the bear along with The Great One.  On the front of the ORANGE bear is 1999 with a lightening bolt through a hockey puck.  
                                        It is brand new in sealed plastic from the factory.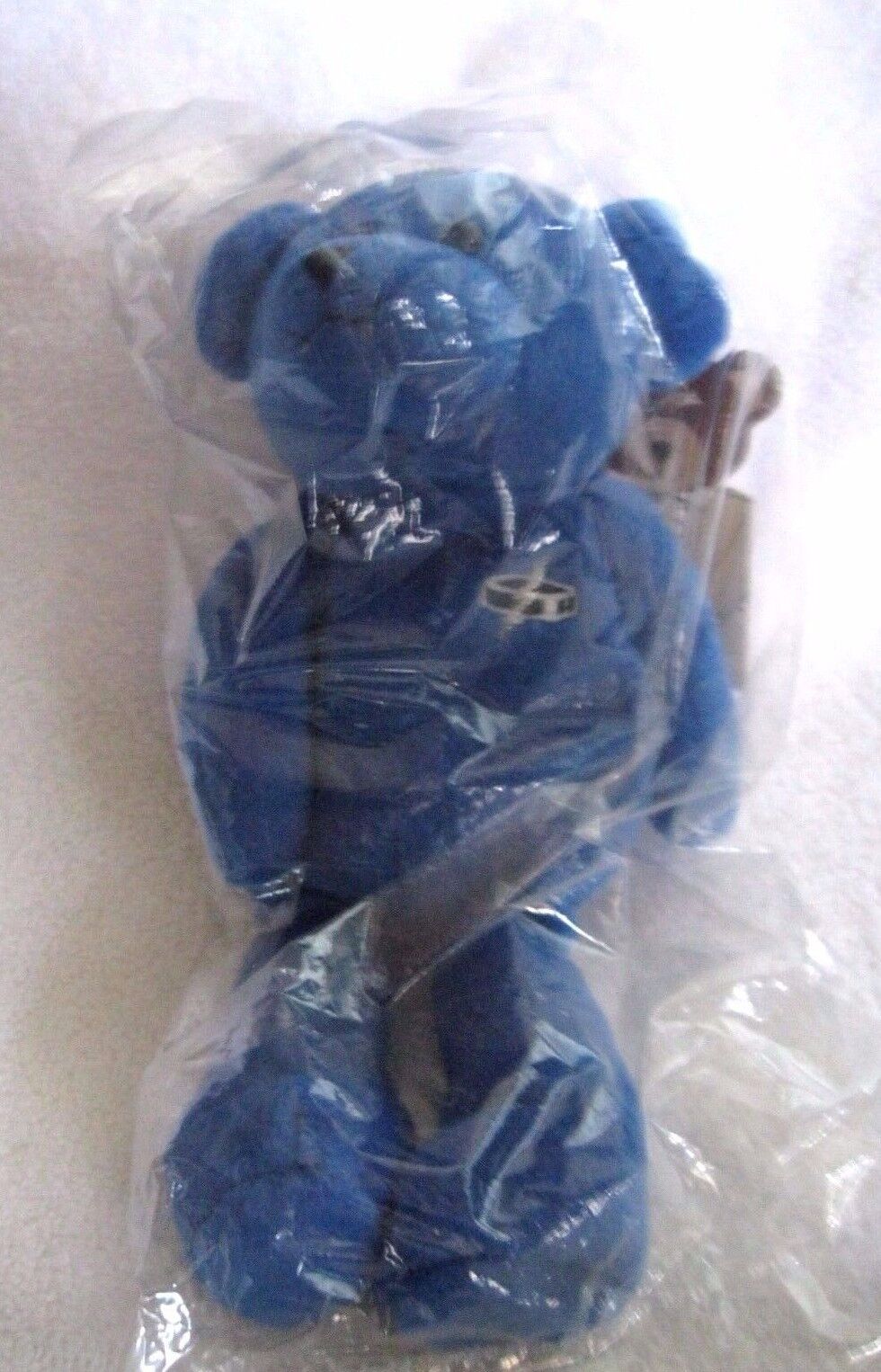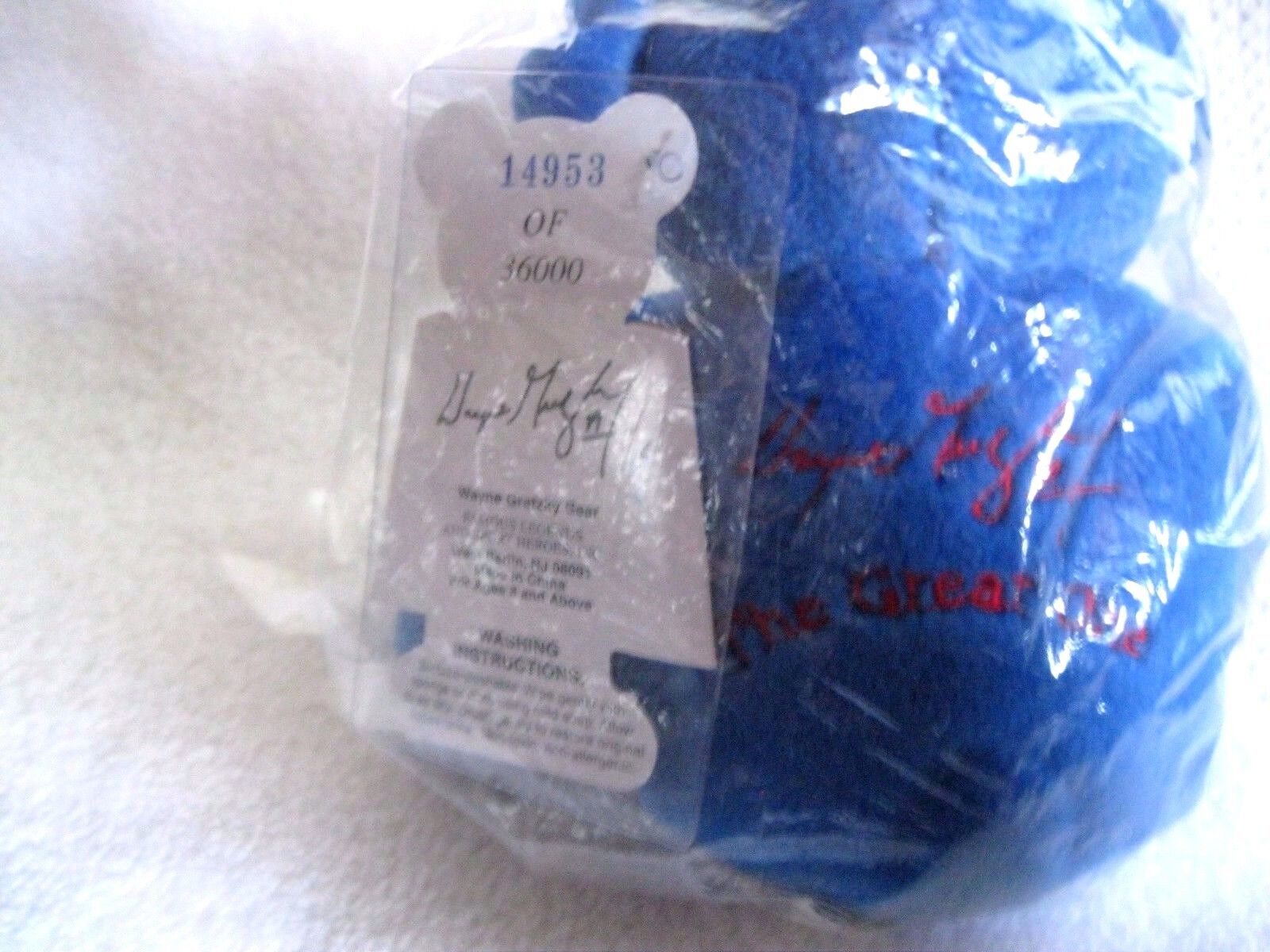 SORRY ABOUT THE POOR PICTURE QUALITY BUT DUE TO FLASH, IT IS IMPOSSIBLE TO GET A GREAT PICTURE WITH THE FACTORY WRAPPING. 
Terms and Conditions (The Fine Print)
**Contact: I will contact you within 24hours with either an ebay invoice or easy to follow instructions. If you wish you can email me immediately at  the Ebay  contact  seller link .
**Payment: Buyer prepays final auction price along with shipping costs. During some periods volume may dictate a slightly longer period for shipping. But, don't worry. Your purchase will be shipped as quickly as is humanly possible.
**Returns/refunds: For the most part this is an AS IS sale. Returns/refunds are available ONLY if I have grossly misrepresented the item sold. If the item is unused, it will be stated in the description, otherwise DO NOT expect it to be new. If you get buyer's remorse, your spouse has a fit, or you decide you've paid too much, remember: I did not force you to bid. Your item will be shipped in the same condition as it is described and pictured here. Descriptions are in the listings  and there are  photos. So read the description, look at the photos and ask all the questions you wish. If it falls out of the box in pieces and you have insurance, I'll provide you with all the necessary information to file a claim. If you didn't have insurance, I'm sorry. Most of the items I sell are either old/antique toys , car parts , and old  or  used  what  everitis To qualify for a return you must contact me within 48 hours of receipt of the item and prove misrepresentation beyond a shadow of doubt.
**Shipping Costs : I WILL COMBINE SHIPPING ON AS MANY LIKE  AUCTIONS  AS I CAN TO HELP YOU SAVE  ON SHIPPING   Buyer prepays shipping costs in addition to final auction price. 
If it is necessary to purchase shipping materials due to item size or other reasons, these costs will all ready be in the  shipping costs and will be passed along without markup. (I will use as many free or recycled shipping materials as possible.) I generally use USPS Priority Mail, however, in cases where weight is a factor UPS may be more applicable. If you have a shipping preference, I'll be happy to use it.
NOTE: PLEASE NO Buying On Approval. . Reads the description, looks at the photos, Then bid as much as you want to win the item .
 I will provide an  description of the item and provide photos . You are expected to ask questions if you have any. 
 On the other hand, if I totally missed something and you asked questions regarding the reason you wish to return it, I will discuss the matter with you via email, within 48hours of receiving the item. Then if you do return it, the item must be in the mail within 3 days of receiving it. No refunds on shipping costs.
Bottom line: NO BUYING ON APPROVAL. Like I said before…. read the description, look at the photos and ask whatever questions you may have. I will play fair and I expect you to do the same. If it's my fault, return it for a full refund of your purchase price.
---
---
AWESOME FOR CHILDREN OVER 6 YEARS OF AGE OR THE SERIOUS COLLECTOR!!         
THESE ITEMS WILL MAKE GREAT GIFTS..... 
WITH A LOW BUY IT NOW PRICE OF $24.99!!! OR MAKE ME AN OFFER!!
BUYER AGREES TO PAY $8.99 FOR SHIPPING AND HANDLING....
YOU CAN BUY ADDITIONAL COLLECTIBLE BEAR AT ONLY $6.99 IN S&H FEES FOR EACH ADDITIONAL FIGURE OR SIMILAR ITEM PURCHASED WITHIN A THREE DAY TIME PERIOD.
CHECK OUT OUR OTHER AUCTIONS FOR NASCAR CARS AND FIGURES, TOYS, HARLEY DAVIDSON ITEMS, SPORTS APPAREL, JACKETS, GRADED CARDS, SPORTS COLLECTION BLOWOUTS, DEREK JETER ITEMS, AUTOGRAPHS, FLAT SCREEN TV WALL MOUNTS, JEWELRY, HOUSEHOLD ITEMS, OAK PICTURE FRAMES,  LIMITED EDITION DOLLS AND SPORTS CARDS, DVD'S AND CD'S, XBOX GAMES AND ACCESSORIES, HARRY POTTER BOOKS, ROOKIE GRADED CARDS, ROOKIE BLOW OUTS, LIMITED EDITION ITEMS AND NUMBERED ITEMS, ETC.
WE ADD NEW ITEMS DAILY SO ADD US TO YOUR FAVORITES...
WE ARE A FIRM BELIEVER IN THE IMPORTANCE OF FEEDBACK, THEREFORE, WE LEAVE FEEDBACK UPON RECEIPT OF YOUR FEEDBACK.  CUSTOMER SATISFACTION IS IMPORTANT, THEREFORE, WE WANT YOU TO CONTACT US IF YOU HAVE ANY CONCERNS........   
---
Share this Product
---
More from this collection